Let us, then, at the time appointed, gather around their sacred remains, and garland the passionless mounds above them with choicest flowers of springtime; let us raise above them the dear old flag they saved; let us in this solemn presence renew our pledge to aid and assist those whom they have left among us a sacred charge upon the Nation's gratitude—the soldier's and sailor's widow and orphan.
~
General Orders No.11, WASHINGTON, D.C., May 5, 1868
In all previous wars we brought home our highly trained military dogs to retire with their handler or to continue to serve EXCEPT for
Viet
nam. When our military was ordered out of
Nam our dogs were tied to camp poles and left to watch the soldiers they loved and protected walk away and not look back. Those dogs were considered to be excess baggage.
What happened to those dogs? Most were starved to death, used for target practice or skinned alive and eaten by the
Viet
Cong who considered them to be a delicacy. Rumor has it that those who weren't tied, or confined, ran behind planes, waited patiently beneath helicopters for their orders, and then, when they were completely exhausted, went back to their last camp and held vigil, patiently, for their handler to come back.
(If you would like to learn more, click on the War Dog graphic. It will take you to a very sobering site.)
Out of 3,000 war dogs in Vietnam, about 200 came home.
More war dogs and additional information can be found at my dog's blog,
Loving for a Living.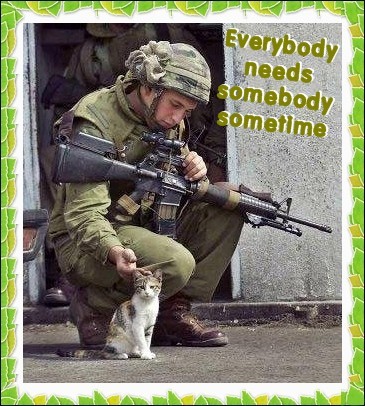 God bless America
God bless our troops