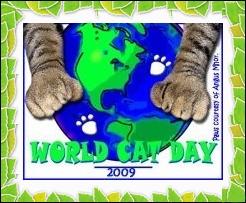 Don't fur-get to celebrate
World Cat Day
on August 8th!
First we would like to thank the lovely ladies over at
The Cat Blogosphere
for introducin' us to so many wonderful kitties (and woofies) from all over this biggie world of ours. Up until the time when we met them we thought our world was our house and what we could see outa' the windows.
We are purr-ayin' fur alla' the feral felines in the world who don't know the comfort of a warm lap and a full tummy. We hope that someday there won't be anymore of our kitty kin who have to ex-purr-ience pain and suffering living on the streets.
We is also purr-ayin' for alla' the cats and kittens in shelters today and wish that this is their very last day without a home. We purr-ay that their momma or dadda angel walks over to them today and takes them home to love and to cuddle.
We is purr-ayin' fur alla' the sick and suffering felines in the whole world whose momma and dadda is worried 'bout them and wants them to get betters.
We is purr-ayin' that no kitten is ever born into this biggie and skeery would without a fambly to l♥ve them fur-ever and fur-ever.
Thank yous dear God, for listenin' to us kitties who are purr-ayin' for all feline-kind on this day.
In closing, we leave you with this lovely and tender PURR-AYER for CATS
THE CATS' LITANY
(Joan M Vivian)
For all unwanted kittens and cats
For all who have no-one to love them
We beseech Thee to hear us, Good Lord.
For all sick and injured kittens and cats
We beseech Thee to hear us, Good Lord.
For all abandoned and dumped cats
Especially pregnant queens with nowhere to bear their kittens
We beseech Thee to hear us, Good Lord.
From all cruel, unthinking people and those
Who put the cat out at night
Good Lord deliver us.
From all who go on holiday and leave us to fend for ourselves
From all those who think cats are self-sufficient and can feed themselves
Good Lord deliver us.
From wet nights and no shelter
Good Lord deliver us.
From mange, cat flu, feline enteritis and all the ills cats are heir to,
Good Lord deliver us.
We thank you, Lord, for all those who love us,
For warm milk, warm bed, fires and any who make happy homes for us,
At rescue shelters,
And grant, O Lord, when our time comes,
A happy ending and a place reserved for cats in Thy Heaven.
Amen